PROVIDER
RESOURCE LIBRARY
Nebraska Health Network offers a number of educational resources to help advance our mission of delivering patient-centered, high-value care. 
RESOURCES DEVELOPED FOR YOUR NEEDS
Provider Content
MEDICAL RISK ADJUSTMENT
Health-care providers are undergoing a massive shift in how health care is delivered—and how it's paid for. It's a move from fee-for-service, or volume care—where the more you do, the more you get paid—to value-based care—where physicians are rewarded for providing high-quality, efficient care. Many factors drive success in value-based care, but one of the most crucial is Medical Risk Adjustment.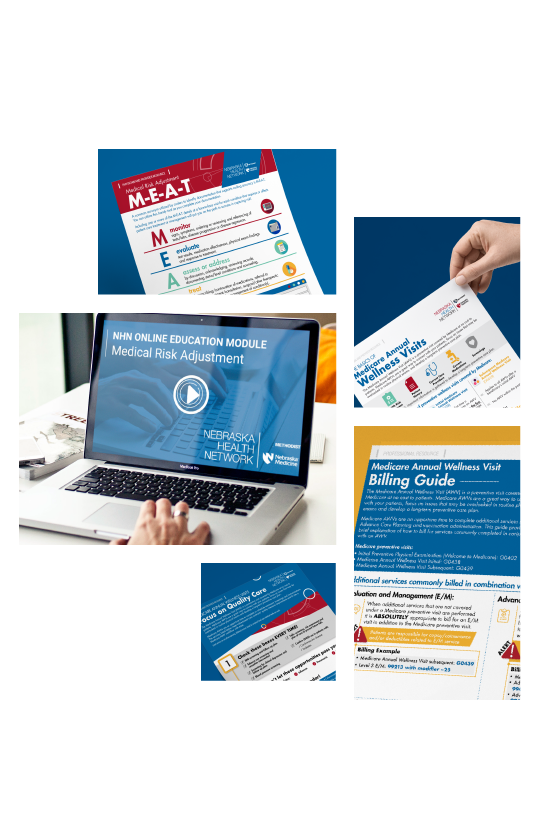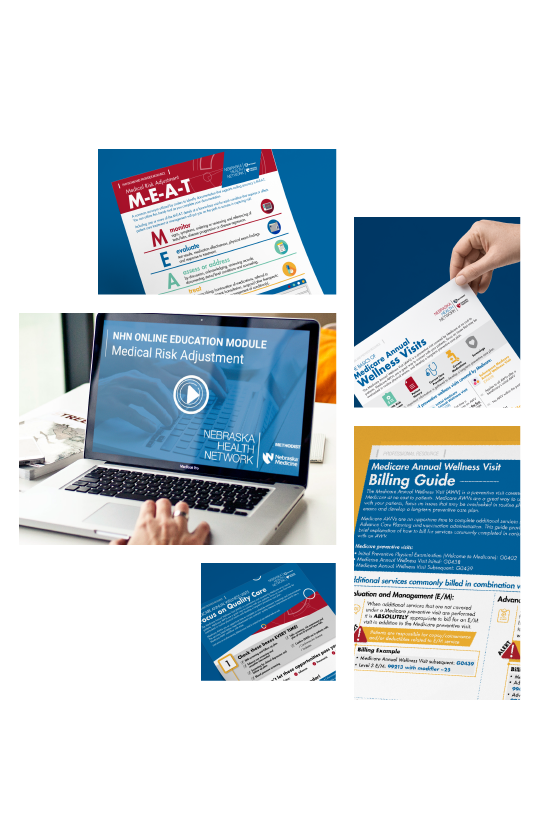 MEDICARE ANNUAL WELLNESS VISIT
The Medicare Annual Wellness visit connects patients and providers to review health records, discuss preventive health-care services, such as screenings and vaccinations, and to develop an overall care plan. View the NHN's resources to better understand AWVs and how your patients can benefit from this yearly visit.
PERSONAL SUPPORT
Resources to Help You Perform
NHN Library of Resources
NHN has a variety of resources to help educate physicians, providers and patients. Explore the current topics and resources below. If there is additional resources you would like to see added, please contact us.
Daily Self Check, Congestive Heart Failure (patient resource)
Daily Self Check, Hypertension (patient resource)
Documentation Coding and Best Practices, Cardiology
How to Take Your Blood Pressure pocket guide and log (patient resource)
View Resources
Chronic Care Management Overview
Chronic Care Management Patient Scenarios
View Resources
Daily Self Check, Diabetes (patient resource)
Diabetic Eye Exams & Retinopathy (patient resource)
Diabetes Screening Guide (patient resource)
Managing Type 2 Diabetes, article
Managing Type 2 Diabetes, social campaign
Understanding Type 2 Diabetes (patient resource)
View Resources
Antibiotic Overview (patient resource)
Colon Cancer Screening, coming soon
Coupon Card Medication Target List
Flu Shot poster series
Medication Record pocket guide (patient resource)
Nebraska Emergency Treatment Order - NETO
Where Should I be Seen? ER vs Urgent Care, (patient resource)
View Resources
Basics of MRA Overview
CMS-HCC/ICD-10 Digital Reference Guide
HCC Quick Reference Guide, full and pocket versions
Documentation Coding and Best Practices, Cardiology
Documentation Coding and Best Practices, Tips & Hints
M-E-A-T Overview
MRA Online Education Module
View Resources
Medicare Annual Wellness Visits Billing Guide
Medicare Annual Wellness Visits Focus on Quality Care
Medicare Annual Wellness Visit Overview (patient resource)
The Basics of Medicare Annual Wellness Visits
View Resources
NHN Lunch-and-Learn Programs
Nebraska Health Network has a number of lunch-and-learn programs designed to educate your team on the latest industry news and Network initiatives. Choose from the list below or request a topic specific to your needs.
Medicare Annual Wellness Visit

NHN/accountable care organization
Ready to engage the NHN team?
The NHN team is here to help. Please contact us if you would like additional resources, would like to meet with a member of the team or would like to see data specific to your practice.