NEBRASKA HEALTH NETWORK
VALUE-BASED CARE AWARDS
Nebraska Health Network Value-Based Care Awards
The Nebraska Health Network Value-Based Care Awards honor an individual(s) who, in the previous year, strengthened the work of our accountable care organization. The awards recognizes an individual(s) for his or her inspiring leadership, implementation of innovative practices and their efforts to embrace and advance value-based care initiatives.
The awards are open to any individual who supports the Nebraska Health Network including physicians, advanced practice providers, administrators or clinic personnel. NHN employees are not eligible for the award.
This individual should support NHN's five core values:
Innovation: Nominee should exhibit a thoughtful, creative and innovative approach to value-based care
Collaborative: Nominee should embrace opportunities to collaborate with the NHN, health partners and patients
Community-Focused: Work of the nominee should support our collective efforts to strengthen patient care in our community
Accountable: The initiatives, leadership or support this individual has provided should demonstrate a positive impact on accountable care organizations and value-based care
Transparent: The nominee should embrace analytical data to continually look for ways to improve and grow the impact of their initiatives
Nominations are accepted throughout the year.
Previous Honorees
2019: Edward Taylor, MD
Nebraska Health Network awarded its first Innovator Award to Edward Taylor, MD, during the Spring Physician and Provider Meeting on June 11, 2019.
Dr. Taylor is a board-certified internal medicine physician at Methodist Physicians Clinic Indian Hills, and has been instrumental in using data to drive meaningful change.
"Dr. Taylor is a role model for how data should be leveraged to successfully manage the health of a patient population," said Michael Romano, MD, chief medical officer for the Nebraska Health Network. "His passion for caring for his patients and maximizing data use made him the clear choice for our first Innovator Award."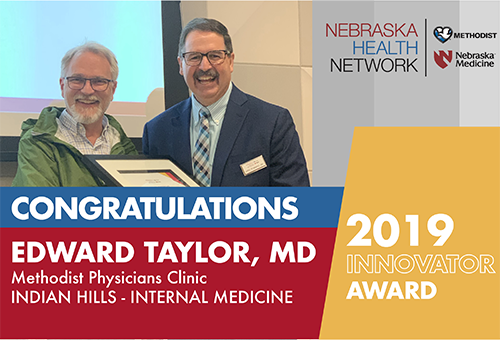 VALUE-BASED CARE AWARDS NOMINATION FORM