At the height of COVID-19, while caregivers across the state were rushing to provide high quality care, health-care marketers found themselves facing a different type of challenge.
The lack of credible information available and inconsistent guidelines regarding COVID-19 preventive measures paired with confusion and disagreement in local facilities and communities, left health-care marketers wondering where to turn.
Fortunately, Nebraska Healthcare Marketers and the Nebraska Hospital Association offered a solution. Volunteers from both organizations, which included employees of the Nebraska Health Network, quickly assembled a multi-channel communication strategy to help Nebraska organizations quickly and consistently convey a series of key messages surrounding COVID-19 prevention and awareness.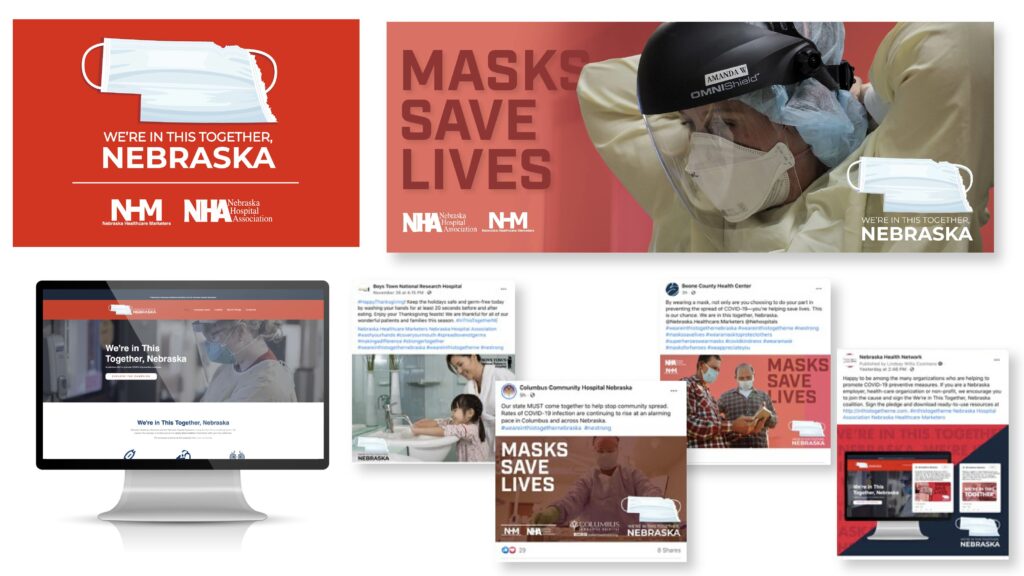 Campaign elements included credible, ready-to-use content and digital assets that enabled organizations to share resources quickly and confidently with their constituents. Messages and digital assets were available on the campaign website, InThisTogetherNE.com. 
More than 77 organizations across the state signed a coalition pledging to lead by example and communicate preventive measures. When surveyed, 94% of individuals who used the campaign materials said the materials improved their communication efforts.
The campaign helped ease the workload of health-care marketing professionals, showcased what it meant to be a Nebraskan and reminded everyone that "We're in This Together, Nebraska."
Editor's Note: In December 2021, NHM was recognized with an Award of Excellence and an Award of Merit in the PRSA Nebraska Paper Anvil Awards for their work surrounding the We're in This Together, Nebraska campaign.