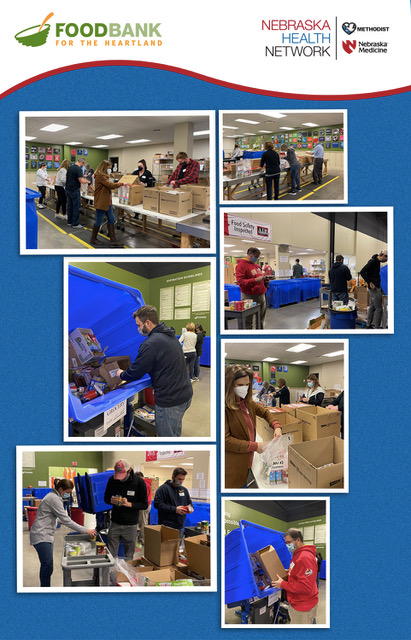 Everyday the NHN strives to live out its core values. Collaborative. Innovative. Transparent. Accountable. Community-Focused. A specific way the NHN focuses on the community, is through the Volunteer Time Off benefit that is offered to all full-time employees.
"The VTO program is a way we can recognize and support our employees, encourage their efforts and make a meaningful difference in the communities we serve," said Lee Handke, PharmD, MBA, Chief Executive Officer of NHN.
The benefit allows employees to volunteer for a cause or organization they're passionate about, with the idea that they will also benefit from helping others.
"Each event gave the heartwarming feelings of compassion and doing something for others. They provided a chance to give back and touch others in the community," said Margie Knoll, NHN Administrative Assistant.
Not only do employees benefit from helping others, but they also gain additional time to learn more about their coworkers they volunteer with outside of the office. The NHN offers multiple opportunities for employees to volunteer together, complementing the collaborative core value.
"The VTO benefit offered by NHN encourages employees to maintain contact with the community that we are impacting with our work through value-based care," said Adam Schulte, PharmD, NHN Pharmacist.
NHN employees receive 16 hours of volunteer time off annually. In addition, the organization hosts several group volunteer events that do not impact the VTO hours. NHN employees have volunteered at organizations such as Food Bank of the Heartland, Salvation Army, Leap for a Cure Monster Mash, Red Cross and more. Many of the employees have personal ties associated with these organizations.
"This allows me to donate my time to an organization that puts time and energy into helping families touched by brain cancer, which is directly related to my passion for going into health care," said Joni Cox, BSN, RN, Clinical Coordinator. "I personally know people and families who have been affected by cancer and it allows me to indirectly support them."
NHN also has resources to help individuals that are in need – a social services platform called Community Relay. Community Relay was adopted by the NHN in 2020 as a way to close the gap for those that are struggling. Resources are offered as free or reduced-cost and can be searched for by category. Categories include: food, housing, transportation, financial, health, legal and more.